Transform Your Vehicle into a Powerful 4WD with a Nissan NVP Conversion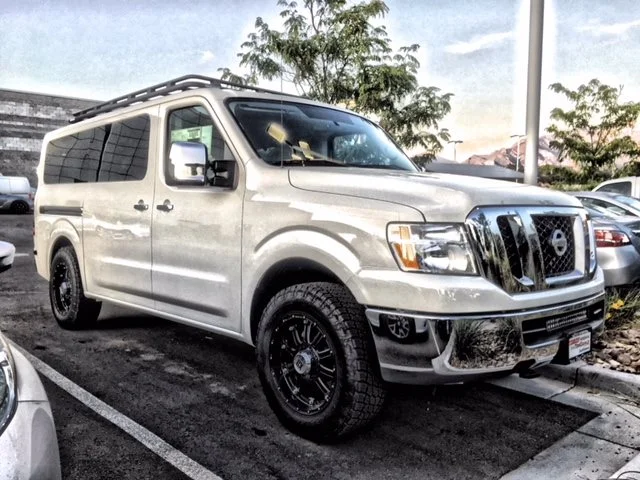 Why buy from Tim Dahle Southtowne?
All factory Nissan parts used in the conversion, call at 877-408-6261. Others use aftermarket parts!
Electronic 4X4 switch in the dash just like the factory trucks and SUVs, no big shift lever on the floor!
No wait necessary, we have them in stock!
We will ship anywhere in the U.S.!
Because we are the direct dealer, NOBODY BEATS OUR PRICE!!!!
Get Ready to Conquer the Road - Check Out Our Nissan NV Passenger and Commercial Cargo Van 4x4 Dealer Conversion!
See How We Easily Convert Your NVP to 4WD from Start to Finish
Discover the Unique Benefits of SV and SL NVPs
Discover the Advantages of Our 4 Wheel Drive Conversion Over the Competition
Get an Honest Review and Real Owner Feedback on the NVP from Tyler
Get Answers to Your Questions about Shipping Your NVP
Trade In Your Old Car for a New NVP
Get Answers to Your Towing Questions About Your NVP
Customize Your NVP with Upfitting and Accessorizing Solutions
Next steps
Thank you for your interest in a new Nissan NV 4X4 Conversion offered here at Tim Dahle Nissan Southtowne.
We understand that there are other van conversions out there available. This information is to inform you of the similarities and differences between the NV vans and the competition.
The Competition
The Quigley system is an All-Wheel-Drive, all-the-time system. Meaning all 4 wheels are connected to the drivelines all the time. The transfer case can engage the power at any speed below 45mph on-demand, and Voila', you have instant all-wheel traction. However, this system does NOT have a true 4X4 transfer case with lower gearing. Only one-speed range. So, your mileage will be affected, and you won't have the low-speed off-road traction most 4X4 lovers want and need. It's more like a BIG Crossover SUV.
The 4X4 System from Advanced 4WD Systems is a true 4X4 system with a two-speed transfer case. It uses parts sourced from many different brands that are combined. The Activator for the 4-wheel drive is an Old-Fashioned shifter that is cut into the transmission tunnel. It is located next to your right leg as you drive. You Pull the gear into 4-wheel High, or Low as you need. It works effectively enough but lacks the factory-installed look and feel of a Factory-Engineered System.
Ours
The Nissan NV-Vans share the same Chassis as the new body Titan XD truck. As a result, the parts we chose to use are factory-designed and engineered. For example: We use a factory-built two-speed transfer case that is made from aluminum, just like the motor block. Therefore, there are no problems with heat expansion gaps. Throughout the entire system, very few parts are not Factory. For example: Our new wire harness communicates with the factory CPU. This new harness has been designed in conjunction with Nissan's Factory engineers, and is custom made for this application. While these components are not factory-created, they are in fact designed Nissan parts and made exclusively for the NV 4×4 Conversion.
The Activator Switch is the factory electronic one used in the Titan and Titan XD. It is mounted in the dash, right near the ignition exactly like it is in the Titan and Titan XD. You may switch into 4WD High at any speed below 60mph. You may choose to switch into 4X4 Low when the vehicle is at a stop. We also installed a 4X4 activity light in the factory gauge cluster. All of this has created a smooth operating system matching the look and feel of the Titan and Titan XD factory installed components. When the NV van is in 4-Wheel drive operation, it feels like you want it to. Creating a seamless perfect factory response.
We can install the system on a stock suspension, or you may choose from three other options all suited to your specific preference.
A front suspension level.
A 3″ front and rear lift kit that can accommodate a 33″ tall wheel and tire combo.
A new 6" lift that can handle a 35″ wheel and tire combo.
We stand by our work and are confident that no other post factory 4×4 conversion system measures up to that of a properly installed Factory-Worthy 4X4 Conversion that only Tim Dahle Nissan Southtowne installs and offers.
Simply put, our customers deserve the BEST!
If you have additional questions or would like more information, we have dedicated NV 4×4 Conversion professional in both Sales and Service who can answer any question you may have. Please feel free to call at 877-408-6261 for more information and availability.